Conference Preview
Starting to make your plans to attend the SfRBM – SFRRI 2023 Conference, to be held November 15-18 in Punta del Este, Uruguay? Review this valuable information to help prepare you to participate at this historic gathering of redox researchers from around the world!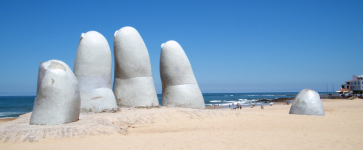 Conference Dates
The conference officially begins Wednesday, November 15 at 5:00 pm, with a pre-conference session (New Horizons in Redox Biology) to be held 1:00 pm – 4:00 pm that same day. SfRBM-SFRRI 2023 concludes after the Closing Banquet and Awards Ceremony on Saturday evening, November 18. We recommend that you arrive no later than Tuesday, November 14 to be ready for the Wednesday start.
Conference Registration & Abstract Submission
Both will open on May 10, 2023. Abstract submission deadline will be August 15, 2023. Abstracts submitted for SfRBM-SFRRI 2023 must be previously unpublished work. All submitted abstracts will be assigned to one of our 18 thematic symposia or assigned as a poster in one of 8 thematic poster areas to be presented on one day of the conference, provided the abstract is deemed scientifically rigorous during a double blinded review process. Abstracts that do not meet these standards will be rejected for presentation.
Registration Fees (in USD)
| | |
| --- | --- |
| SfRBM / SFRRI Senior Investigator Member | $585 |
| SfRBM / SFRRI Student Member | $300 |
| Non Member / Senior Investigator | $735 |
| Non Member / Student | $375 |
| SfRBM Emeritus Member | $250 |
| Undergraduate | $200 |

Air Travel
The recommended arrival airport is Carrasco International Airport in Montevideo, Uruguay (MVD). There are 11 airlines flying direct to Montevideo from 15 airports in South America, the United States and Europe. From the US, American Airlines is the only airline that flies non-stop to Montevideo (via Miami).

Passports / Entry Requirements
A valid passport is required for entry into Uruguay. You do not need a visa for a visit of less than 90 days if you are traveling on a tourist passport. You must have a valid visa if you are traveling on a diplomatic or official passport. There are no special vaccination requirements for Uruguay.

Passport Renewals - Do It Early!
There is a backlog on passport renewals in many countries worldwide with some taking more than twice as long as normal to process. For example, as of April 1, current wait times in the US for regular service is 3+ months with 2 months for expedited service. Click here for updated US processing times. Don't wait until the last minute here - if your passport is not current and you are planning on attending the conference, please start the renewal process right away.
Transfers from Montevideo International Airport to Punta del Este
SfRBM – SFRRI will offer transfers for conference attendees on major arrival and departure days at a rate of $80 USD one way / $160 USD round trip per person which can be reserved online from our conference website. The trip from MVD to Punta del Este is approximately 1.5 hours.
Hotel Accommodations
SfRBM – SFRRI has set up room blocks at 6 different hotels in Punta del Este that are a 5-10 minute shuttle ride to the Punta del Este Convention Center where all conference sessions and special events will be held. Room rates will range between $150 - $200 per night plus tax. Attendees can book their rooms online from the Hotel Reservations link on our website starting May 10, 2023.
Shuttle from hotels to the Convention Center
SfRBM – SFRRI will offer shuttle service from our contracted hotels to the Convention Center and back during peak transit times each conference day. Check back for a more detailed schedule in early Fall. Ride share services are available in Punta del Este but are not particularly reliable and taxis are tough to get and expensive.
Food
Your room rate at all SfRBM – SFRRI's contracted hotels will include breakfast so plan on eating it there. There will be affordable lunch options that attendees can purchase at the Convention Center each day, including the Center's in house cafeteria and local food trucks that will be present. Beverages will be provided during afternoon poster sessions and conference registration includes access to our Opening Reception (Wednesday, November 15) and Closing Banquet and Awards Ceremony (Saturday, November 18).
Conference Format
SfRBM-SFRRI 2023 will include many things that you've come to expect during our conferences, including the Free Radical School, Poster Sessions, professional development and networking opportunities. This year, we are piloting a new approach to our main educational sessions. First, we are inviting prominent plenary speakers who offer inspiring, state-of-the-art and disruptive science that can significantly extend our usual horizons. Second, we will have 18 different thematic symposia on a wide range of redox research topics – each with 2 senior speakers and the opportunity for two junior speakers (up to 12 years after completing their PhD) to submit their own research in these areas and be selected as a speaker in these featured symposia.
See full conference format at: https://sfrbm.org/meetings/sfrbm-sfrri-2023/conference-format/
Special Welcome Concert
SfRBM-SFRRI 2023 will feature a special event just before our Opening Reception - Malena Muyala, an Award-winning Uruguayan singer and songwriter, will headline a tango and milonga-themed concert that will showcase the music, rhythms and culture of our host country. You won't want to miss it!
Hospitality
Due to the multiple conference hotels used for SfRBM-SFRRI 2023, we will not be holding any later evening hospitality functions. We've intentionally left Thursday and Friday evenings free so you can explore the sights, sounds and food of Punta del Este.
Travel Awards
SfRBM will offer a total 30 travel awards totaling $25,000 to SfRBM member students and postdoctoral fellows who wish to attend SfRBM-SFRRI 2023 and present their research, based on double blind review judging. Travel Awards will be provided in 3 categories – Traditional, DEI and SfRBM Journal.