Women in Science
Women In Science (WIS) is a SFRBM Committee whose focus is to improve pathways for women to contribute fully to academic research by promoting the visibility and participation of women scientists in the SFRBM. To learn more about what WIS has to offer, click any of the links below.
2016 COMMITTEE
Committee Chair
Rebecca Oberley-Deegan, Ph.D.
Department of Biochemistry and Molecular Biology
University of Nebraska Medical Center
(402) 559-9364
becky.deegan@unmc.edu
Opening Doors Committee:
Samantha Giordano, Ph.D., University of Alabama at Birmingham
Maria Clara Franco, Ph.D., University of Central Florida
Michelle Booze, Ph.D., Sanford Health
Communications Committee:
Aimee Eggler, Ph.D., Villanova University
Joanna Rybka, Ph.D., Nicolaus Copernicus University
OPENING DOORS
WIS organizes the annual Opening Doors Event which provides the opportunity for education, dialogue and networking among scientists during the Annual Meeting. Topics vary each year and the event will feature a guest speaker.
SFRBM 2015
SFRBM 2013
FEATURED WOMAN IN SCIENCE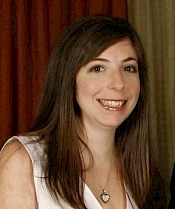 Samantha (Sam) Giordano, Ph.D.
Hometown: Staten Island, NY
Title and current institution: Postdoctoral Fellow at the University of Alabama at Birmingham
Research interests: The effects of estrogen and estrogen deprivation on mitochondria, and cholesterol homeostasis in inflammatory cells.
How I fell in love with the role of estrogen in mitochondrial function: I love studying the mitochondria because the DNA is maternally inherited and being a girl that is fascinating! I am a bit of a feminist (hehehe). During my first post doc, I was exposed to the world of estrogen research and I thought that the mitochondria and its maternally inherited DNA had to somehow be linked to estrogen levels (the female hormone) and now I am hooked! There is an increased incidence of CVD, diabetes etc. in women after menopause and since mitochondrial dysfunction plays a role in these diseases, it is interesting to understand the role of estrogen.
A life challenge you had to overcome: One of the biggest challenges I had to overcome was admitting I didn't want to be a tenure track faculty member in a large academic institution, but at a smaller liberal arts college. I had always heard that being successful was a big academic job, but admitting to myself, that an undergraduate liberal arts primarily teaching job was the right position for me was difficult. I didn't want to disappoint my mentors but now I know I don't want to disappoint myself. Teaching at a primarily undergraduate college is where I am meant to be.
Best advice you have ever received: Take time for yourself, you only live one life. I used to think I needed to be constantly busy, always working toward a goal. I have now learned to appreciate a quiet day at home, just relaxing.
Pet peeves in science: Sloppy notetaking! How can anyone replicate your work if it's not organized!!! Always take detailed, organized notes!
Book or article that you would recommend: "Letters to a Young Scientist" Edward O. Wilson. This was a graduation gift from a friend. The different lessons imparted in the different letters describe the goal of all scientists, to problem solve. The advice is beneficial for all young scientists aiming for all different career paths in science!
Three things people may not know about me:
I'm addicted to caffeine…I love coffee!
I love the color pink (Although anyone who attended the past annual meeting knows that since I wore pink every day).
I love hard rock music; I have even been to see Disturbed and Rob Zombie.
PAST FEATURED WOMEN IN SCIENCE


Daret St. Clair, Ph.D.
University of Kentucky
---
RELATED LINKS
RELATED ARTICLES
---
"Women in Science"
They are unspoken of,
hidden and kept in the shadow.
Yet some have blossomed,
leaving the darkness below.
The names are few,
but their net worth is more than the number
for history has seen to it,
that their records are kept in slumber.

They have battled through culture,
transcended religious barriers,
to pursue their passion,
their scientific careers.
Their findings have not been acknowledged,
yet they did not pine for glory,
for those who know their might,
know their struggle and story.

Emilie du Chatelet, Caroline Herschel,
Sophie Germain, Lise Meitner,
Sonya Kowalevsky, Theano,
Maria Gaetana Agnesi, Emmy Noether,
to name but a few,
but their contributions to science,
deserve accolades and awards,
but they have accepted instead, silence.

Let us live by their example,
and keep contributing to expanding knowledge.
Let us not think of reward,
for women in science have been living with tallage.
Let us think of it as our passion
keep the nobility of our work in mind,
for our discoveries in science,
will ultimately redeem mankind.
Dr. Viduranga Waisundara
National Institute of Fundamental Studies
Hantane Road, Kandy, Sri Lanka